This recipe is a clean, low calorie, high protein snack which is perfect for anyone on the run.
This recipe is a 4 ingredient protein filled snack to give you a little boost for a snack or perfect for a pre-workout bite. All you need is a mixing bowl, oven, foil and voila a beautiful little health booster right there. Its Vegan and Vegetarian and the only sugar in it comes naturally from the banana with plenty of fibre to let you know when you are full.
Difficulty: Easy
Lasts: One Week
Travels: In Tupperware
Storage: Fridge
So the ingredients that you will need are:
Oats
Banana
Peanut Butter
Coconut Oil
(you can jazz these oat bites with any flavour… such as raisins or cacao nibs for extra fun)
Sourcing the ingredients is quite important in the recipe. You will need clean peanut butter – none of that sugar loaded crap you find on the shelves in supermarkets. Banana should be at the stage where its starting to turn and one more day would not be great to eat straight up. Coconut oil should be organic and raw (great options are Vita Coco and Lucy Bee coconut oil). Oats should be rolled oats.
Oats and Coconut Oil are amazing and full of skin boosting ingredients. The protein and great carbs and fats that comes from the peanut butter and oats combined will give you all the will power you need. Loaded with banana for all those important vitamins that fur fill a healthy diet.
So here we go…
2 very ripe bananas, mashed
1½ cups rolled oats
⅓ cup peanut butter
Tablespoon of coconut oil
Choc chips or raisins – if you want to add
Method:Preheat the oven to 170c (350f).
Combine bananas, oats, and peanut butter in a bowl and mix well, add the coconut oil and stir through. Fold in raising/ cacao nibs.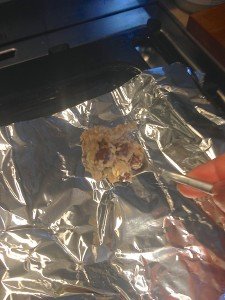 Drop bite-sized spoonfuls onto a parchment-lined baking sheet and bake for 12-15 minutes.
Enjoy!
Once cooled – I store mine in a Kilner Jar at easy reach. Great for me for a little healthy snack and perfect for those looking to build muscle by grazing on the right sources